"ERA Real Estate is acutely focused on the local presence of our affiliated agents and brokers to help them standout in their markets."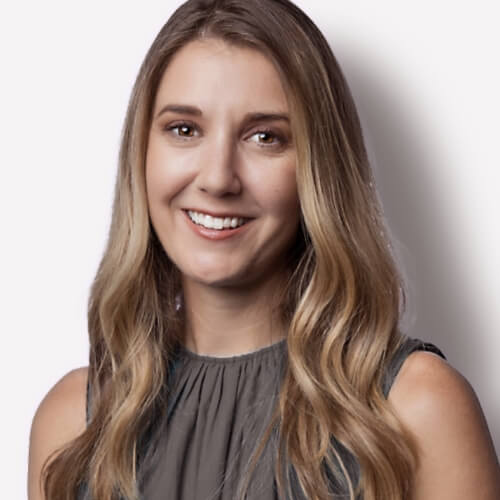 Amory Wooden
Chief Marketing Officer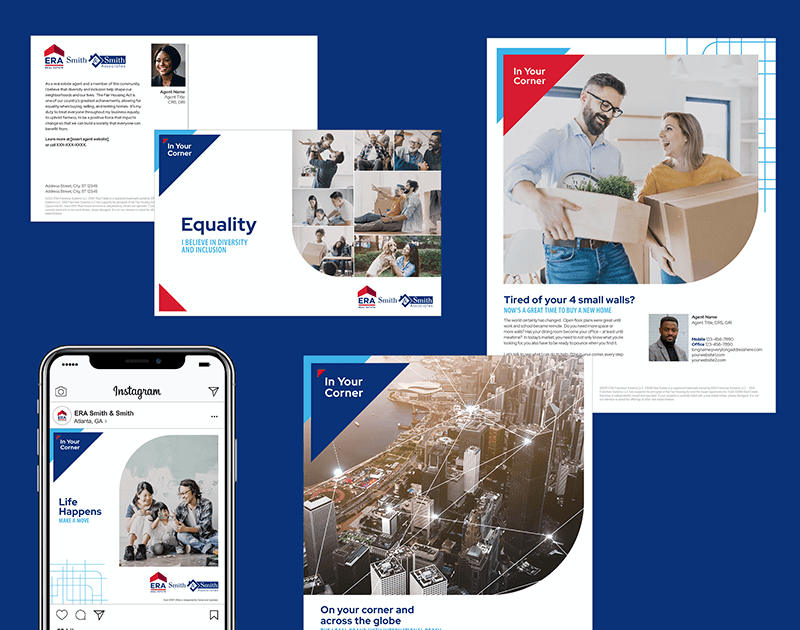 Every detail of our brand was thoughtfully and strategically created to help you build your brand locally.
With two distinct branding options to choose from, your brand will stand out in any crowd. Our grid design is symbolic of many things. It's a blueprint for a community since real estate is local. It represents connectivity because that's what our culture is all about . And it represents technology, a nod to both our history and our future. Our triangular design element signifies the strength of coming together. Corners are prevalent in our messaging as well, whether it's helping brokers and agents "Corner Your Market" or telling consumers that ERA® is "In Your Corner." That branding and strategy carries throughout everything we do. Branding of this caliber is an integral part of elevating the perception of your business. By integrating our branded marketing materials, you'll create powerful, cohesive local marketing campaigns that are professionally crafted for your business.
Want to keep your own local branding?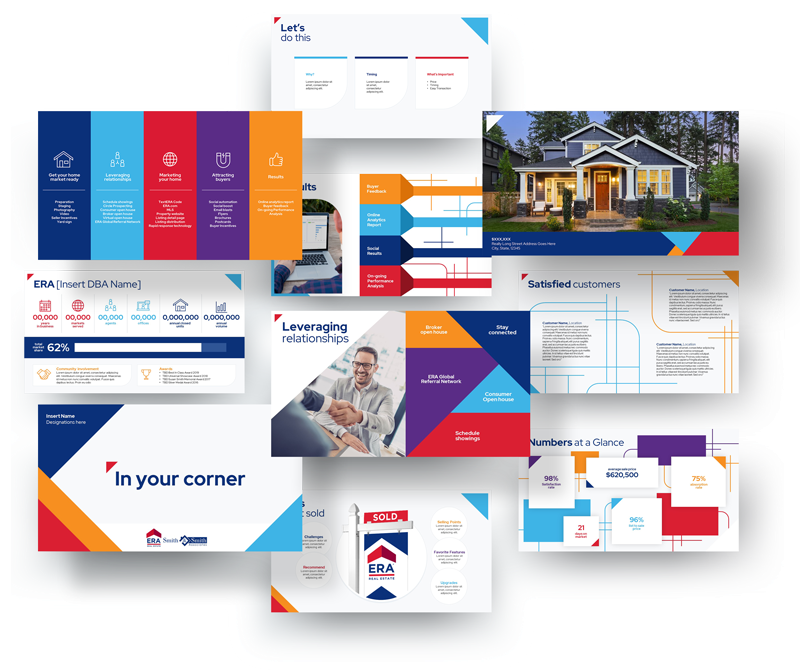 Powerful Marketing Minus the Guesswork
Our marketing is designed to help your agents spend less time on marketing and more time growing their business.
Whenever an agent gets a new listing, we automatically create a suite of marketing assets, including: a listing detail page, a video microsite, YouTube® videos, print-ready client marketing, TextERA short codes and more, at no additional cost. It's like having a personal marketing department. Plus, agents will also have access to beautifully designed property and agent marketing materials including listing presentations, flyers, brochures, postcards and social assets.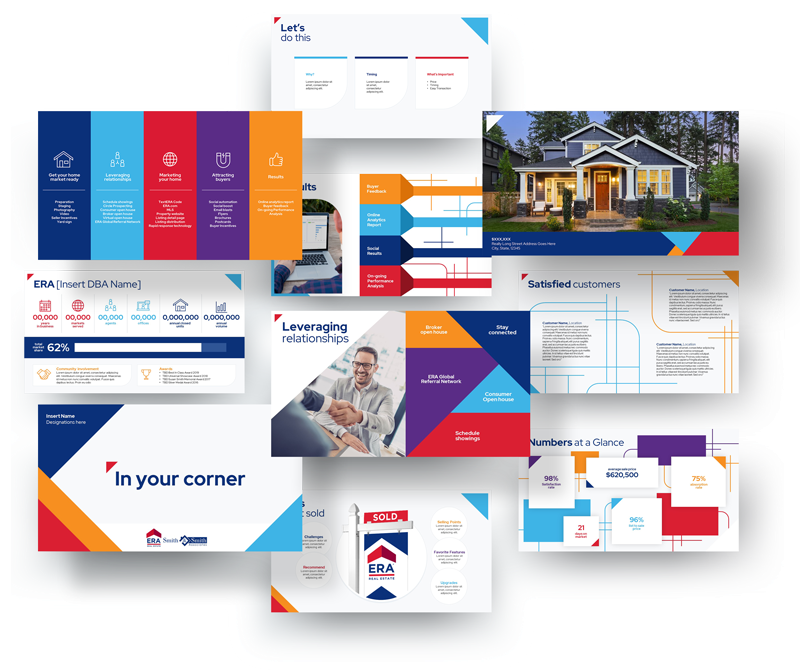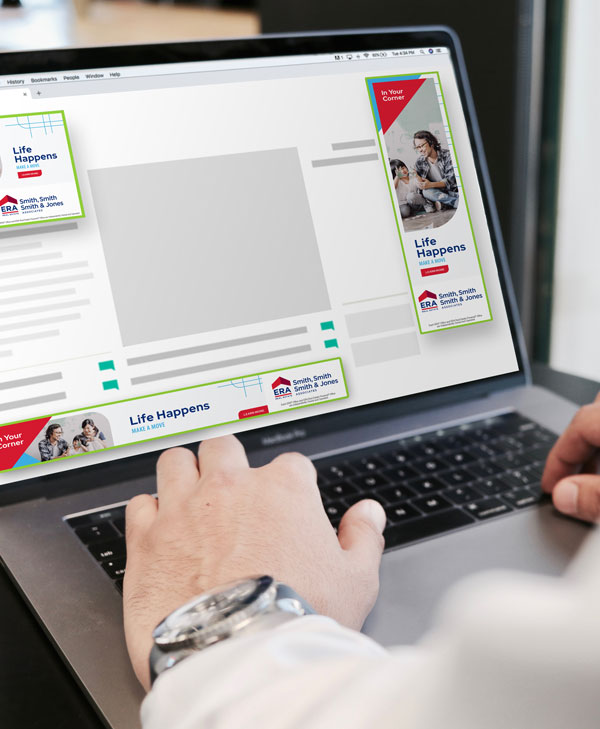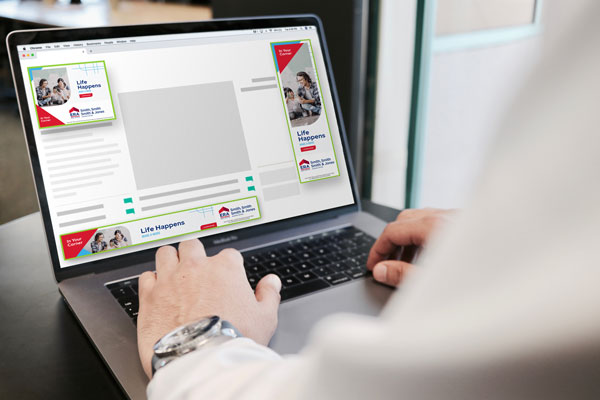 Corner Your Local Market(ing)
Drive local targeted leads and measurable engagement for your company with the ERA Local Marketing Hub.
The ERA Local Marketing Hub provides campaigns and guidance designed to fit your needs and budget. Our digital marketing experts help you evaluate your media budget and your goals, select a campaign, location, and destination. You can use it as a self-serve platform, or work one-on-one with our media planners—whichever works best for you.
ERA Distinctive Properties showcases influential homes that appeal to distinguished buyers.
When agents need to market an exceptional home, ERA Distinctive PropertiesSM gives you invaluable exposure to high-wealth homebuyers. Luxury properties are syndicated to a premium network of nearly 100 sites in over 60 countries at no additional cost. In addition, they're viewed on WSJ.com, RobbReport.com and JamesEdition.com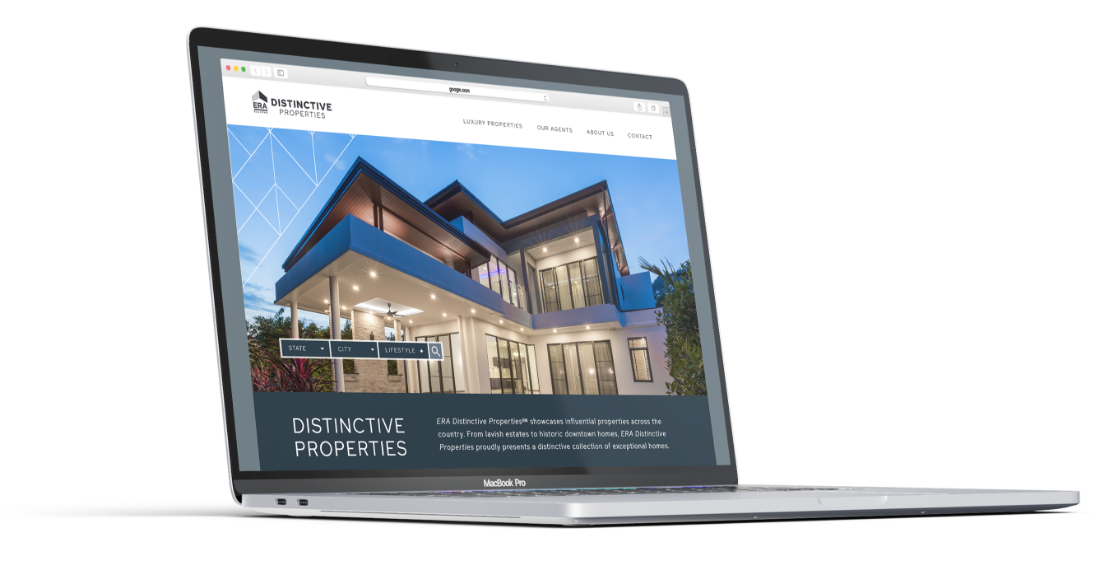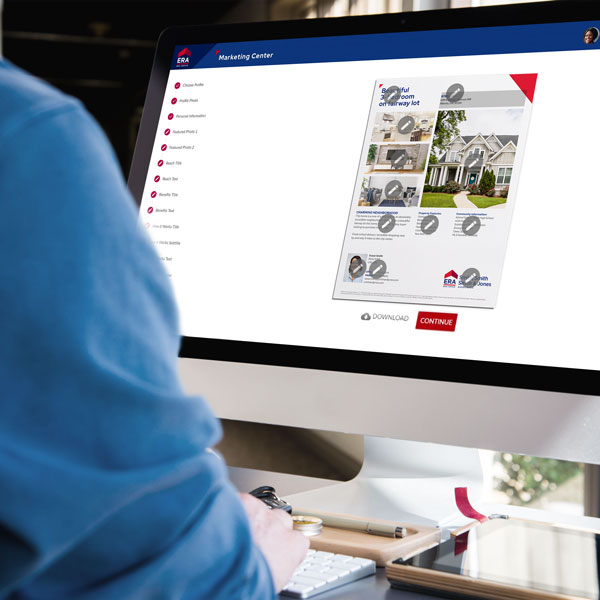 Your place to customize all things marketing.
You and your agents will be able to create, update and maintain branded marketing assets from recruiting materials to agent marketing and property marketing to social graphics. Make those printed materials a reality by downloading them or utilizing the print-on-demand feature to create high-quality, branded marketing materials like postcards, brochures, flyers and more—all customized with your information.
Our industry-leading social media presence means you can tap into our platforms for content and ideas to share on your own social channels.
We share news about our brand, our culture, thought-leadership, information on tried and true ERA products, the benefits of our awesome learning courses, and our partnerships.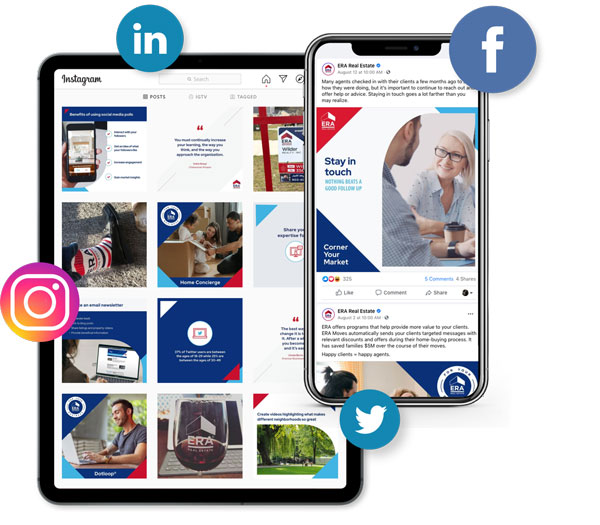 We are dedicated to helping you promote your business on a national and local level.
We love spotlighting our brokers, agents and leadership by shouting out their success as it relates to our brand, our local companies and their thought-leadership. Local PR is an excellent opportunity for you to build your reputation and value. The ERA Local PR Center can help you increase your credibility and visibility in your market. Our press release templates and best practices are designed to set you up for PR success.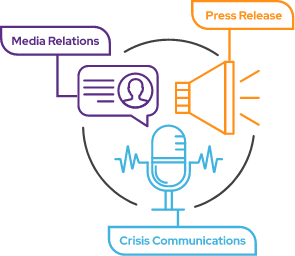 Professional Partnerships
Partnering with organizations that foster diversity and fresh thinking.
As an international brand, we pride ourselves on representation within our industry. Our partnerships with organizations like NAR and Inman Connect allow our brand to be recognized - and heard. Plus, our relationships with groups like AREAA, NAHREP® and the LBGTQ+ Real Estate Alliance allow us to show support for diverse market segments and promote diversity among our brokers, agent and communities.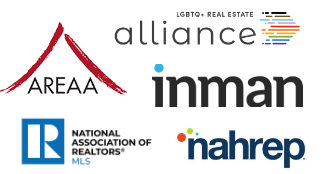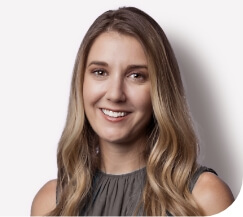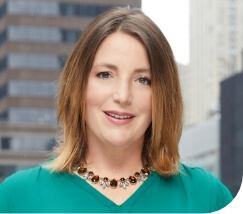 Director of Brand Engagement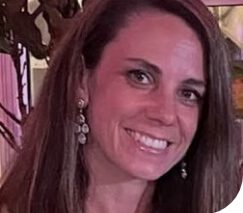 Manager, Public Relations & Communications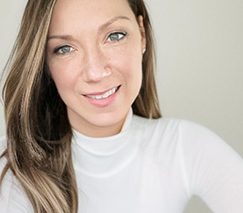 Sr. Director, Field Marketing